Details of Gentlemen's
1890s Evening Attire
A more detailed Guide to Men's Clothing
| | |
| --- | --- |
| | Table of Contents: Related Pages: |
---
Gentlemen's Evening Ensemble
Tail Coat: Black wool tail coat with straight waist and horizontal and vertical seams on the front, each about an inch from the waist and center front edges. Peaked lapels, can be faced or semi-faced in silk. Fairly fitted to the body. Collar can be shawl or peaked, with or without button holes. Applied cuff on sleeve.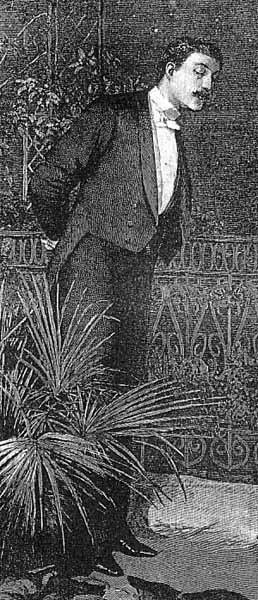 Tuxedo: The "recently" invented tuxedo jacket is an acceptable, though less formal, alternative; usually has a shawl collar
Shirt: White formal shirts with stand up or slightly rolled collar. Worn with dress studs and cuff links.
Trousers: Black wool, straight cut.
Waistcoat: Can match the suit or in a white silk. White is a more formal alternative. Has a shawl collar and scooped, shield, or Vee shaped front, open to below the chest. Waist is straight. The waistcoat bottom does not extend below the front of the tailcoat. Cummerbunds are not period.
Accessories (tie, gloves, shoes, hat): Bow tie, can be either white (more formal) or black, usually silk. White kid gloves are de rigeur for ballroom wear. Shoes are leather, often patent, with a fairly pointed toe and small heels. Black silk otop hat.
Gentleman's Tailcoat Ensemble.
The gentleman here is well turned-out in a tailcoat with what appears to be a shawl collar, three sets of buttons and a straight-cut waist; low-cut, light-colored waistcoat, in a Vee shape with collar; the waistcoat does not protrude below the waist of the coat. There appears to be a watch chain suspended from the waistcoat; shirt with single stud; white necktie and standing collar and well shined, fairly pointy, shoes. He is probably also wearing white kid gloves, although they can't be seen. The trousers do not appear to have a stripe at the side seam.
Gentleman, Harper's Bazar, 27 June 1891
| | |
| --- | --- |
| | |
| 1899 Tailcoat Ensemble | 1891 Tailcoat Ensemble |
| | |
| 1892 Tailcoat Ensemble | 1892 Tuxedo Ensemble |
Gentleman's Dress-Suit and Inverness.
This plate shows a gentleman in a "tailor-made" dress Suit and another in an Inverness Overcoat with a Tuxedo underneath. The Full-Dress tailcoat has lapels semi-faced in satin, with buttonholes (non functional), a front waist seam and straight (horizontal) front. The trousers are creased in the front to just above the knee, the waistcoat is quite low-cut, in a vee or shield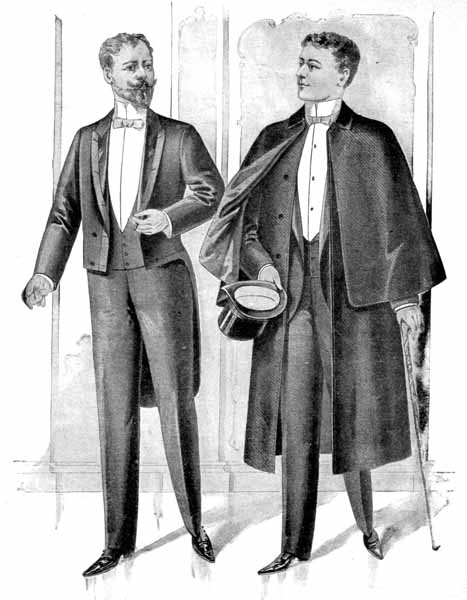 shaped curve, with four buttons. The waistcoat cannot be seen below the front of the tailcoat. The shoes have a strong shine and are two toned with side buttons and pointy toes and slight heel. The Tuxedo, which has no front button, appears to have a shawl collar, perhaps the collar is satin. It's waistcoat is cut low in a less severe curve with three buttons. The inverness appears to be of wool with a satin or velvet collar. Shirts have plain fronts, both with and without visible studs, and high standing collars with a slight curl at the throat. Gloves and bow ties are probably white. The ensemble is finished with a beautiful, possibly silk, top hat.
---


P.O. Box 9, Nahant, Massachusetts 01908
e-mail:
phone: (781) 49-WALTZ (781-499-2589)
© 2013, Vintage Victorian, All rights reserved

NEWS:












last updated 24 jul 2014/csb