Vintage Victorian was founded in 1989 by Catherine Bishop. The company produces historical reproduction clothing, accessories, period fashion reference books, as well as doing restoration work on period outfits. Our interest primarily focuses on 19th and early 20th Century fashion, although our portfolio of designs includes items from the 18th through the mid-20th Centuries. All of our made-to-order creations are custom made to suit individual needs and are created with an emphasis on historical accuracy. I have access to an extensive library of period clothing, magazines, books, and patterns to draw upon for inspiration. Our most frequent customers are Vintage Dancers, Historical Re-enactors, Museums, Actors and Bridal parties.
In 1999 we started producing the Vintage Dress Series Books to aid our customers in the design of their outfits. That project has grown to be a major part of the company. The eras covered are currently from the 19th Century, soon the library will be expanding to cover some early 20th Century topics. If there is a topic that you would like us to cover, or if you need some specialized research done please contact us.
A majority of our customers are Vintage Dancers, who recreate the dances of the 19th and early 20th centuries. Since period ball gowns are not only hard to find, but usually too delicate to dance in, a reproduction gown is usually a necessity. Vintage Victorian can create a gown that not only is appropriate to the period but also can stand up to years of dancing, and it will never go out of style! We can also supply all of the appropriate undergarments, from corsets to petticoats, and accessories, even searching for the right fan or pair of gloves to complete a vintage outfit. We can bring your original design to life on the dance floor.
We also create outfits for Civil War re-enactors as well as gowns for events such as Victorian Teas, period Costume Balls, and Bathing Parties at events like the Newport Vintage Dance Week.
Weddings
Whether your wish is to commission the perfect gown, wear a treasured family heirloom, or special vintage find, Vintage Victorian can help you. We create original wedding and bridal party outfits, in both modern and historical styles, as well as performing restoration services on antique gowns. We also have created many wedding and attendant gowns, both historical and modern; each creation custom made to suit individual tastes. And no outfit is complete without appropriate costume accessories such as collars, hats, and veils that we can make especially for you.
---
Click here to go to a page with information to help you decide if Vintage Victorian can help your dream dress come to life.
About Catherine Bishop, Owner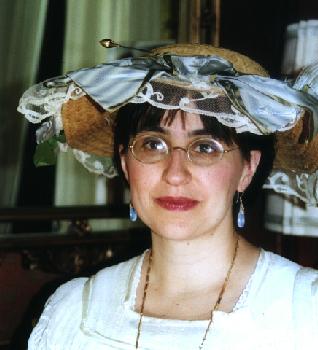 Vintage Victorian's founder Catherine Bishop has many years of experience in the area of custom dressmaking, costume design, history, and textile conservation. She is and independent costume historian and researcher who has worked with many small museums, historical societies, and other groups on small exhibits, she is also an avid vintage dancer. Catherine worked for a number of years in the conservation lab of the Boston Museum of Fine Arts' Department of Textiles and Costumes.
The Collection
Catherine has amassed an extensive library of period clothing, magazines, books, and patterns to draw upon for inspiration. She also has a large collection of original period clothing, dating from the 1830's to the 1930's, an invaluable resource in making reproduction clothing.