In addition to publishing books on historical fashions Vintage Victorian
offers other services:
Historical Reproduction Clothing, Corsets, Undergarments, Hats and Accessories
Restoration Work on Period Garments
Wedding and Bridal Party Gowns
The majority of my projects focus on 19th and early 20th Century fashion, although the portfolio of designs includes items from the 18th through the 20th Centuries. All of my creations are custom made to suit individual needs and are created with an emphasis on historical accuracy, though the level of accuracy is often adapted to the individual needs of the client. I have access to an extensive library of period clothing, magazines, books, and patterns to draw upon for inspiration. My most frequent customers are vintage dancers, historical re-enactors, performers and bridal parties.

Note: Due to an increased personal commitments I am currently taking on a very limited number of dressmaking projects for the forseeable future.
Custom Reproduction Clothing Ordering Information
Contact Information
| | |
| --- | --- |
| | We can be contacted by E-mail at: |
| | |
| | or by snail mail at: |
| | P. O. Box 9 |
| | Nahant, MA 01908 |
| | or by phone: (781) 49-WALTZ (781-499-2589) |
Costs
The costs given here, of our most commonly produced items, are offered as a general guideline only. Each commission is unique, and as a result the cost of each person's garment is different. After our first meeting a written estimate will be given outlining the expected costs for your outfit.
$500
+
Period ball gown or wedding dress, does not include the cost of the materials and trims.
$250
+
Basic Victorian corset, in cotton coutil, which includes all materials (fancy cloth and trim extra).

$95
Cotton chemise, basic trim and lace.
$55
Basic Cotton muslin or flannel drawers.
$75
+
Cotton muslin or flannel drawers, fancy.
$65
+
Basic Cotton petticoat.
$250
Gentleman's Waistcoat, not including fabric.
$55
Gentleman's 1860 silk stock (necktie), black or white silk (black is more common).
Payment
Usually a 30% to 50% deposit is expected at the time you place the order, with the balance due upon completion of the work. If the project is particularly large the cost can be broken down into several payments. The fee for an initial consultation is $25, which can be applied to your final order.
Fittings
Due to the vital importance of the good, custom, fit needed to create the proper period silhouette, several fittings are usually required for most historical garments. This makes it difficult to complete orders to my satisfaction for people who cannot travel to the Boston, MA area for fittings. Some items can be produced by mail-order if reliable measurements are provided, but most cannot.
Wedding Gown and Antique Dress Alteration or Restoration
Antique clothing and vintage wedding gown restoration commissions (mother's bridal gowns a specialty!) are quoted based on an estimate of how many hours of work are required to complete the project. Written estimates will be provided after our first meeting.
Time needed to complete an Order
Nothing made by Vintage Victorian is "off the rack," everything is "made to order" especially for you. Usually several months lead time is needed to complete a period commission (often the more time the better as I have children's schedules to contend with). Please be aware of the time needed and place orders accordingly.
Sewing Assistance
I am also available for sewing advice and assistance. If you are stumped by that period pattern, need help fitting your bodice, or need advice on what trims and fabrics to choose or where to buy them, I can help. The usual charge for this service is $25 per visit. E-mail advice is also available free of charge.
---
About Catherine Bishop, Owner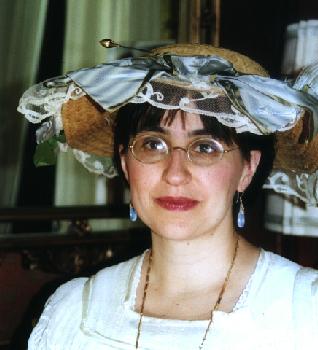 Vintage Victorian's founder Catherine Bishop has many years of experience in the area of custom dressmaking, costume design, history, and textile conservation. Catherine worked for a number of years in the conservation lab of the Museum of Fine Arts' Department of Textiles and Costumes (now called the Textiles and Fashion Arts), in Boston, Massachusetts. She is currently a performer and costume coordinator for The Commonwealth Vintage Dancers, and a volunteer costume curator for the Nahant Historical Society.