EARLY 20TH CENTURY UNDERGARMENTS
1900-1909
During the first decade of the 20th century, skirts fit quite smoothly over the hips, and draped softly where they often flared out to sweep the floor in a cascade of ruffles. Bodices had slightly dropped shoulder lines, pouched bodice fronts, sometimes called a blouse-front or pigeon-front. Evening necklines were low cut, occasionally with mere ribbons or even no shoulder straps. Sleeves early in the decade were often fitted, and also Bishop sleeves, with a fairly fitted cap and drooping fullness at the cuff. Later in the decade the sleeves were once again full at the top and tapering in a leg-o-mutton form, or fairly fitted cuff. As a result, undergarments became fairly lightweight and more fitted to the body, especially at the waist, so as to reduce the bulk under one's gown.

For a typical ensemble the likely undergarments worn might have been: a chemise, which was worn under the corset to protect the body, a corset, in the fashionable S-bend silhouette, to shape the body, a pair of drawers and a corset-cover (or combination drawers and corset-cover) to protect the gown from the corset and a petticoat or two to add the appropriate amount of fullness to the skirt. A small bustle pad might also be worn on the derriere and hips to round them out if needed.

On this page period descriptions, sizes, yardages and prices have been included when available. This page is not displaying patterns that are for sale, the prices are given for historical research purposes only.
---
Period illustrations and Descriptions:
Undergarments 1900-1909
---
Chemise 1902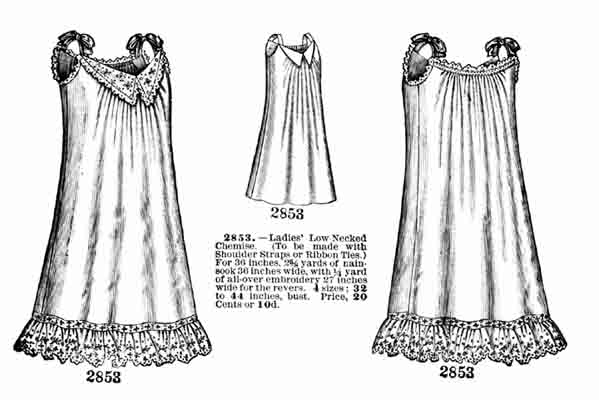 2853.-Ladies' Low-Necked Chemise. (To be made with Shoulder straps or Ribbon Ties.) For 36 inches, 2 5/8 yards of nainsook 36 inches wide, with 1/4 yard of all-over embroidery 27 inches wide for the revers. 4 sizes: 32 to 44 inches bust. Price, 20 cents or 10d.

Butterick, Metropolitan Fashions, Late Spring, 1902
---
Combination 1902

4261.-Ladies' Combination Corset Cover or Under-Waist and closed drawers (to be made with a High Round V or Square Neck with or without Sleeves, and with the drawers Straight Around or in Knickerbocker style at the Knee) 3 3/4 yards, 36 inches wide, 9 sizes, 30 to 46 inches, bust. Price 25 cents or 1s.

Butterick, Metropolitan Fashions, Late Spring, 1902

---




Petticoat 1902
Petticoat 1902


2777.-Ladies' Close-Fitting Five-Gored Petticoat Skirt Lengthened by a Narrow Gathered Ruffle, and having a Deep Gathered Flounce Set On and also Lengthened by a Narrow Ruffle. It measures about 3 yards at the bottom in the medium sizes if the gores extend to the foot. For 24 inches waist, or 40 inches hip, it needs 10 7/8 yards 20 inches wide. 9 sizes: 20 to 36 inches waist, or 36 to 57 1/2 inches hip. Price, 20 cents or 10d.

Butterick, Metropolitan Fashions, Late Spring, 1902
---
Petticoat 1902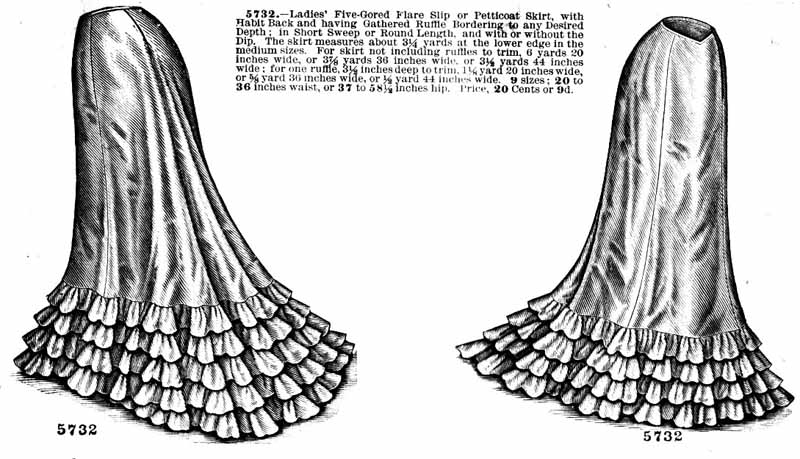 5732.-Ladies' Five-Gored Flare Slip or Petticoat Skirt, with Habit Back and having Gathered Ruffle Bordering to any Desired Depth; in Short Sweep or Round Length, and with or without the dip. The skirt measures about 3 1/4 yards at the lower edge in the medium sizes. For skirt not including ruffles to trim, 6 yards 20 inches wide; for one ruffle, 3 1/2 inches deep to trim, 1 1/2 yard 20 inches wide, or 5/8 yard 36 inches wide, or 1/2 yard 44 inches wide. 9 sizes: 20 to 36 inches waist, or 37 to 58 1/2 inches hip. Price, 20 cents or 9d.

Ruffles provide the decoration of the mode represented , the material used being rose silk. Five gores, aided by hip darts, gave a smooth adjustment to the slip or petticoat skirt which is one of the flare variety with a habit back and may be made in short sweep or round length. The top may be cut out for the dip in front and the closing invisibly made at either the centre-back or left side-front seam. Straight gathered ruffles give a fluffy effect to the lower edge, which in the medium sizes measures about three yards, and a fourth, and any number may be used.
Blue brocaded satin, with ruffles of blue taffeta, would be in keeping with advance styles. Black-and-white striped or plaided silk is also extensively used.
We have patetrn No. 5732 in nine sizes for ladies from twenty to thirty-six inches waist, or thirty- seven to fifty-eight and one-half inches hip measure. For a lady of twenty- four inches waist or fourty-one inches hip, the skirt not including ruffles to trim requires six yards of material twenty inches wide; a yard and an eighth in the same width is required for one ruffle three and one-half inches deep to trim. price of pattern, 9d. or 20 cents.

Butterick, Metropolitan Fashions, Late Spring, 1902
---
Petticoat 1903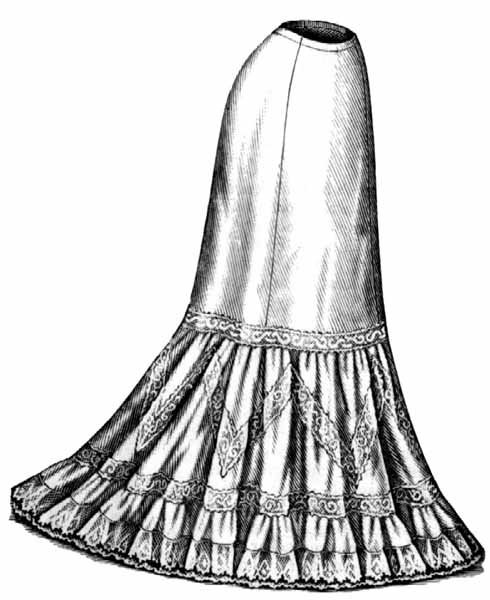 6609.- Ladies' Five-Gored Petticoat-Skirt, with gathers or an inverted Double Box-Plait Falling Free, or Stitched Down in Habit Effect at the Back, and Lengthened by a Dust Ruffle Overlapped by a gathered Flounce Sewed or Buttoned on, the Dust Ruffle and Flounce being each Finished by a Border Ruffle.

Correct shaping is quite as important a consideration in the making of petticoats as in dress skirts, and the dainty mode portrayed in nainsook elaborated in fine Valenciennes lace insertion and edging conforms to the latest style. Five gores were utilized in shaping the skirt, and darts over the hips afford smooth adjustment at the top. The back shows an inverted double box-plait, which may be in regulation style or stitched down in habit effect, or the fullness may be disposed in gathers. A dust ruffle having a border ruffle applied lengthens the mode and is overlapped by a gathered flounce in knee depth, which may be attached permanently or buttoned on. A border ruffle decorated with edging finishes the lower edge of the flounce and produces the fluffy effect so necessary. An underfacing completes the top, and draw-strings, on which the skirt is gathered when the plaits are not desired, are inserted.
We have pattern 6609 in 9 sizes, from 20 to 36 inches waist, or 37 to 58 1/2 inches hip measure. To make the petticoat-skirt for a lady of 24 inches waist, or 41 inches hip, will require 6 1/4 yards of material 36 inches wide. Price 9d. or 20 cents.

Butterick, Delineator, February 1903
---
Drawers 1906

9495.-Ladies' Dart-Fitted French Open Drawers, with Plain or Fancy Straight Ruffles.

Daintiness and perfection in fit in under-garments are so desirable that many women find satisfaction easier to attain when these garments are made at home. On this page is illustrated a design for French drawers that commends itself by its simplicity of detail and ease of construction. Inside leg seams and darts at the top in front, as well as a short seam at the center front, are employed in making, and the back edges meet at closing. The lower edge slopes upward at the outside, and the straight ruffle follows this edge which is sometimes cut in points at the front, the upper edge of the ruffle in this instance taking the same shape. Ribbon run beading or lace insertion forms a dainty heading, and ribbon bows are placed at the sides. The design is illustrated in French cambric with needlework, in nainsook with Valenciennes insertion and edging, and in longcloth with lace and hemstitched ruffles.
Drawers 9495 are in 7 sizes, from 20 to 32 inches waist measure. For 24 inch waist, it needs 3 3/8 yards of material 27 inches wide. Price 10 cents.

Butterick, Delineator, September 1906

---




Corset Cover 1906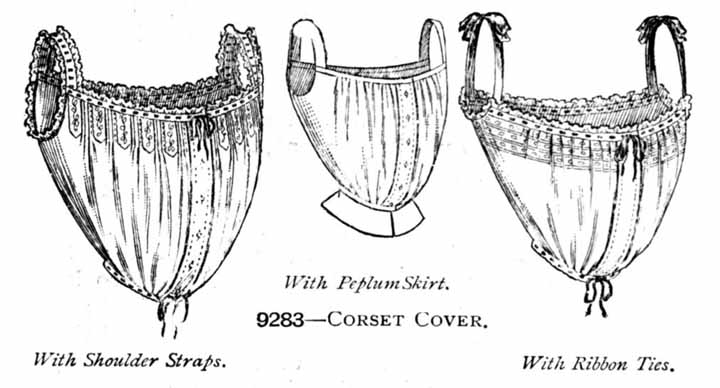 9283.-Ladies' Corset-Cover, in Either of Two Depths at the Top, with or without the Under-Arm Seams or Skirt. (For Evening or general Purposes.)

This simple mode is illustrated in linen with Swiss insertion, edge lace and ribbon-run beading and also in nainsook with Valenciennes lace, insertion, ribbon and beading. The body may be cut in one piece or have under-arm seams, and the front has groups of short lingerie tucks, between which dainty trimming is sometimes inserted, or gathers may replace the tucks. The back is plain and straps of beading, ribbon or plain bands of the material cross the shoulders. The lower edge is gathered under a band of beading, to which a circular skirt may be added. Either of two depths is allowed at the top, which makes it available for evening as well as for general purposes.
Pattern 9283 is in 6 sizes, from 32 to 42 inches bust measure. For the medium size, with underarm seams it calls for 1 3/8 yard of material 27 inches wide; without under-arm seams, 1 1/2 yard 27 inches wide. Price 10 cents.

Butterick, Delineator, June 1906
---


P.O. Box 9, Nahant, Massachusetts 01908
e-mail:
phone: (781) 49-WALTZ (781-499-2589)
© 2011, Vintage Victorian, All rights reserved

NEWS:












last updated 24 jul 2014/csb