Fashions of 1905-1906

Note: any patterns described below are from historical sources; the descriptions are for research purposes only and they are not for sale.
Dresses are made of lightweight cloth in cotton, linen or silk, embroidered goods and lace insertion are heavily used; white is common but dresses can also be colored or patterned. Colored under-slips can seen coloring white dresses.
Bodices have a slightly wider shoulder line than the 1890s, and the Turn-of the-Century pigeon front is less pronounced.
Skirts are slightly trained the waist fits smoothly over the hips and very high neck.
Sleeves are slightly puffed and elbow length (long, fitted, cuffs were also worn), long leather gloves completely cover the arm. The ladies taking tea have removed their gloves.
Etiquette point: never wear gloves while eating or drinking.
Hats are not overly-large and shapes vary quite a bit. The styling is very feminine and decorated with feathers, flowers, lace, and ribbon. They are plopped on top of the head or perched at an angle.
The hair is a fairly full and wavy Gibson Girl Pompadour.
Parasols are fairly long-handled and large.
Jewelry: Simple necklaces and brooches are worn at the neck.
Miscellaneous fashion plates
some descriptions available below (click on picture for larger view)
Contemporary Descriptions of Ladies' Dress 1905-1906
Note: My notes precede the illustrations and are in plain text. The original descriptions are in italics. These are period descriptions from vintage ladies' magazines for research purposes—these patterns are not available for sale
Ladies Having Tea
Illustrated here are some lovely afternoon dresses, often called lingerie dresses.
From The Delineator 1906:
Afternoon Frocks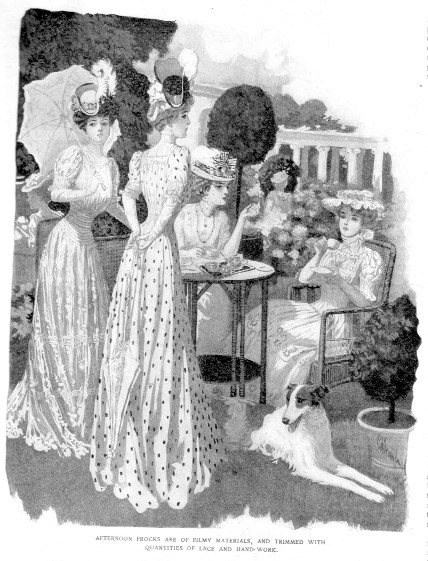 Afternoon frocks are of filmy materials, and trimmed with quantities of lace and hand-work.

The Delineator, June 1906
---
Afternoon Frocks

Figure 1: Dotted batiste with plain batiste, hand-embroidered, and Swiss needlework were combined in this charming costume, a reproduction of No. 9282.

Figure 2: Blouse waist No. 9271 and skirt No. 9275 are represented in the stylish frock, the silk voile being relieved by hand-work and baby Irish lace.
Figure 1: The bolero is a becoming feature of many of the costumes designed for the Summer. A pretty mode is here shown in embroidered hem-stitched flouncing combined with plain linen insertion, in lawn with embroidery, and also in French veiling with all-over Venise lace and banding. A fitted lining supports the waist, which is cut in V outline at the top to accommodate a yoke of the same shaping, and a standing collar or a round or V neck may be given. When the bolero is used, it follows the lower edge of the yoke and hangs with graceful fullness about the figure, disclosing the soft crush belt as well as a portion of the blouse. The front closing is invisible. The full sleeves may terminate in bands at the elbow or be extended to the wrists by deep gauntlet or shallow cuffs. Fancy sleeves formed by applying ruffles to the cap foundation are also provided.

Seven gores give shaping to the skirt, and three or fewer ruffles add to the flaring effect at the lower edge, unless a deep shirred or gathered flounce if preferred, in which case the skirt may be cut away beneath it. Band trimming is used to head the flounce or ruffles. Medium sweep or round length are provided, and the skirt measures about four yards in the medium sizes, and the flounce about six yards. The mode will reproduce well in all thin goods.

Pattern 9282 is in 7 sizes, from 30 to 42 inches bust measure. For the medium size, the costume with ruffles requires 6 yards 44 inches wide with 17 1/2 yards of edging for sleeve ruffles and to trim the skirt, and 1 1/2 yard of flouncing, 13 3/4 inches deep for bolero; for costume with skirt cut away beneath flounce 4 5/8 yards of plain goods 36 inches wide, with 7 3/8 yards of flouncing 26 inches deep for flounce and full fronts. Price of pattern 20 cents.

Figure 2: An attractive waist is here shown in several developments, which include louisine with hand embroidery, buttonholed edges and repousse lace, and batiste with all-over embroidery of the same fabric. A lining supports the blouse body, that is tucked or shirred in groups at the upper part, and has an ornamental bertha outlining the open neck when the fancy yoke or tucker is not used. A standing collar in either of two effects affords completion for the high neck, and the closing is arranged at the back. The lower edge fullness is regulated by gathers, and completion is afforded by a crush belt. The sleeves are shirred or tucked at the lower part, above frill extensions which finish them in elbow length, deep gauntlet cuffs with plain or fancy tops completing them in full length, when they may extend over the hand or be finished straight around.

This design will develop well in pastel-blue radium, with a bertha of Cluny and yoke tucker of Valenciennes. It is also excellent as part of a whole costume of French gray henrietta. Clair de lune, messaline, crepe de chine, China silk, mousseline de soie, challis, etc., are suitable. Pattern 9271 is in 7 sizes, from 30 to 42 bust measure. For the medium size it calls for 2 1/8 yards of material 44 inches wide, each with 1 1/2 yard of all-over lace for collar and cuffs. Price of pattern is 15 cents.

The Delineator, June 1906
---
Princess Gown and Bolero Waist.

Figure 1: One of the charming new plaids in voile is pictured in this stylish frock, a reproduction of No. 9402, and the accessories are silk and Irish crochet lace.

Figure 2: The fancy bolero is a pleasing feature of this toilette of chiffon cloth, braided, and trimmed with Cluny. Waist No. 9419 and skirt No. 9424 were used.
Figure 1: The plain tight-fitting princess gown is not becoming to all women, but there are modifications of this style of dress which greatly extend its field of usefulness. A gown of this type is here shown (pattern No. 9402) in weather-proof foulard with hand-run lace, silk being used for contrast. The frock may be constructed over a nine gored slip foundation. A standing collar completes the yoke or tucker which is outlined by trimming bands. Tucks taken up for a short distance at each side of the front throw becoming fullness over the bust, and the closing is invisibly arranged at the back. Short horizontal tucks are laid on the sleeve, and a shaped band finishes the lower edge, whether in full or shorter length.

The three-piece skirt joins the bodice under a soft girdle that terminates at each side of the front. Backward turning tucks are taken up in the circular portions, those at each side of the placket being arranged in box-plait effect. A panel front that is cut long enough to over lap the body in plastron style is inserted. The use of the trimming is a matter of choice. In the medium sizes, the lower edge measures about five yards and one-half.

Woolen crash, cotton, woolen or silk voile, lansdowne, poplin, ponge, shantung, moire, chiffon, faille, etc., are suitable. Pattern No. 9402 is in 6 sizes, from 32-42 inches bust measure. For the medium size, it calls for 5 and 5/8 yards of material 50 inches wide, each with 3/4 yard of all-over lace to cover yoke, collar and cuffs, and 1/2 yard of silk for girdle; for slip in full length, 6 7/8 yards 36 inches wide will be needed. Price 15 cents.

Figure 2: A fancy bolero elaborates the dressy waist here illustrated in repousse lace with radia silk, lace edging, and fancy and plain braid. Shoulder and under-arm seams shape the mode which closes at the back, and the fullness at the lower part of the waist proper is caught to the lining under a soft girdle of the silk. A standing collar deeply pointed at the back affords neck completion. The bolero is of the usual length and is cut out at the top to reveal the lace beneath, the opening at the center of the front being in U effect. All the edges are followed by the braid. The sleeves are gathered into straight bands below the elbow, and again above it, where bands shaped in upward points hold the fullness close to the arm. A plaited circular ruffle is sometimes added to follow the outline of the upper band, and deep cuffs extending over the hands in the approved manner are applied to the linings when full length is desired.

For the blouse, point d' esprit, Brussels net, mousseline de soie, embroidered batiste, baby Irish lace, Cluny with embroidered net and silk mull are suitable; for the bolero, broche, taffeta, clair de lune, poplin, chiffon velvet, rajah, chiffon broadcloth, etc., are suggested.

Waist 9419 is in 5 sizes, from 32 to 40 bust measure. For the medium size, the bolero, girdle, sleeves, fancy bands and frills call for 1 5/8 yards of goods 44 inches wide; the full front, full backs, collar and cuffs require 2 3/8 yards 18 inches wide or 1 5/8 yard 27 inches wide. Price 15 cents.

The Delineator, August 1906
---
Tucked Shirt-Waist and Circular Skirt

9269-Ladies' tucked shirt-waist, with shirt sleeves or full-length or shorter bishop sleeves, and with or without the body lining.

9260-Ladies' three piece circular skirt, in medium sweep, round or short round length, with an inverted box-plait or in habit style at the back, and with or without the circular flounce from beneath which the skirt should be cut away.
For wear with a tailored suit nothing is smarter than a tucked linen shirt-waist. Such a design is here illustrated and one development shows a decoration of hand embroidery on the collar and cuffs. The front is laid in wide cuffs stitched to yoke or waist depth at each side of the simulated box-plait. Stitching may also follow the outer edges of the tucks in front. Neck completion is afforded by a standing collar that conceals the regulation narrow band. Deep and shallower cuffs are provided for the full-length bishop sleeves, those in shorter length being closely banded below the elbow, and link cuffs and laps are furnished for the regulation shirt sleeves.

A silk or soft kid belt with smoked pearl, brass or cut steel buckle affords a stylish and attractive waist finish. The usual shirt- waist materials including madras, pique, linon, percale, taffeta and louisine are suitable for reproduction. Pattern 9269 is 7 sizes from 32 to 44 inches bust measure. For the medium size, it calls for 3 1/2 yards of material 27 inches wide, with 5/8 yard of all-over embroidery for collar and deep cuffs. Price of pattern, 15 cents.

The circular skirt is always much liked and the additional circular flounce in this mode gives a graceful flare about the feet. It is represented in make-ups of English suiting heavily stitched, of chiffon broadcloth with applique banding, and wool crepe. The skirt is of three-piece construction, a narrow front gore and circular sections having a close adjustment about the hips, below which it falls in ripples to the feet. An inverted box-plait or the habit effect may characterize the back, and the closing is arranged at each side of the front or at the center seam. The flounce is optional, and when used the skirt is cut away beneath it. Medium sweep, round and short round lengths are provided for, and the measurement of the flounce at the lower edge in the medium size is about six yards and one-half, while that of the skirt is about five yards.

Venetian, Scotch, mixtures, invisible stripes and checks, moire, taffeta, peau de soie, grosgrain and linen are suitable. The shadow- checked mohair in two shades of queen's-gray will develop this mode charmingly, and a smart accessory is a gray satin elastic belt studded with cut steel beads closed with a cut steel buckle. Pattern 9260 is in 8 sizes, from 20 to 34 inches waist measure. For 24 inches waist, with flounce, it calls for 6 3/8 yards 44 inches wide; without flounce 4 1/8 yards 50 inches wide. Price, 15 cents.

The Delineator, June 1906
---
Jacket and Circular Skirt.

9312-Ladies' Double Breasted Jacket, in Short Hip or Pony Length, with Notched or Shawl Collar, and Full-Length or Shorter One-Seam Sleeves.

9273-Ladies' Two-Piece Circular Skirt, Straight at the sides, in Medium Sweep, Round or Short Round Length, in Side-Plaited Effect to Yoke Depth, and with an Inverted Box-Plait at the Back, with or without the Trimming-Band.
The plain short jacket is one of the jauntiest of outer garments, and one of the most favored of the season's designs. Here is pictured a simple design in shepherd's-plaid, in plain covert and in shadow check, with velvet collar and cuffs and an outline trimming of narrow galloon. Both short hip and pony lengths are provided for, becomingness only being considered in making a choice between them. Centre, side-back, under-arm and shoulder seams are employed in shaping the jacket, the broad fronts being in single pieces, and lapping in double-breasted fashion. The fastening is made either with visible buttons or in a fly, and option is given of a shawl or a notched collar for finishing the neck. The longer jacket may have a pocket inserted at each side if fancied, and in both a short vent is allowed at the end of the side-back seam. The sleeves are of medium size, formed by one seam, and the pattern allows them to be made in full length or to be cut off and finished with turn-back cuffs.

These jackets are usually worn with a skirt to match, especially if made of fancy material, but tan, black, gray and some of the neutral tones are used for separate coats. Panne velvet may be employed for the cuffs and collar of a green panama jacket, and it will be pretty with an outline trimming of narrow Persian embroidery. A skirt of the same material should be worn in order to get the best effect, and the Persian trimming and velvet might also appear on it. Figured Sicilian or mottled brilliantine will make up attractively, as well as tweed, cheviot, serge, broadcloth, English suiting, and all the seasonable coatings. Pattern 9312 is in seven sizes from 32 to 44 inches bust measure. For the medium size, it requires 2 1/2 yards 44 inches wide, with 1/2 yard of velvet 20 inches wide for collar and cuffs/ price of pattern, 15 cents.

A variation of the popular circular skirt is here shown in checked gods, in English suiting with contrasting material, and in cashmere plainly finished. The shaping of the mode throws a bias effect at the centre-front and centre-back seams, while the sides hand straight of the goods, eliminating any objectionable sagging. Side plaits all around and an inverted box-plait at the back are stitched to yoke depth, producing a close adjustment about the hips, and below the skirt falls in graceful folds to the lower edge, where it measures six yards and three-fourths in the medium sizes. A wide bias trimming band in two sections and with rounded ends overlapping toward the front may trim the skirt a short distance from the edge, medium sweep and round length being allowed by the pattern.

Pattern 9273 is in 7 sizes, from 20 to 32 inches waist measure. For 24 inches waist, without trimming bands, it calls for 6 3/8 yards of material 44 inches wide; for the trimming-band 2 yards of material 20 inches wide, or 3/4 yard 50 inches wide will be required.

The Delineator, June 1906
---
Shoes for Walking Costumes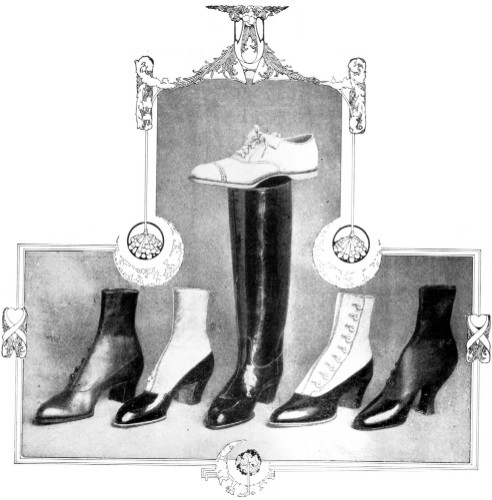 Shoes for Walking Costumes, The Delineator, June 1906
Walking costume calls for immaculate foot dressing, and the outdoor sports must be considered.

The Delineator, August 1906

The demand for white shoes has been met by the designers with greatest variety ever produced. White buckskin, alligator, walrus, seal and all sorts of rough and smooth leathers are employed for ties and pumps, and duck canvas and suede are popular as ever. The stockings worn with white shoes should be white. Colored shoes, matching or harmonizing, are smart with all costumes and fancy frocks.

The Delineator, June 1906
---
Shirt-Waists
The most effective waists are made of fine handkerchief linen, with elaborations of hand-embroidery and net or lace intermingled, the net forming the petals or centres of flowers, or being introduced in a geometrical design.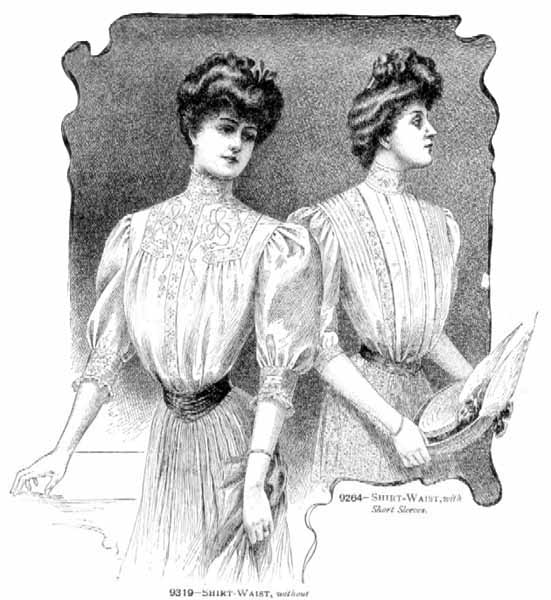 A shirt-waist of fine batiste has insets of lace at intervals all over the lace, and each is bordered by a design in hand-embroidery, slightly varied in each instance.

Figured alpaca is one of the spring favorites which will be used to a great extent throughout the summer. It is used for shirt-waist costumes and two-piece suits, and is obtainable in many pretty colors.

Patterned pongee is another fabric highly esteemed for warm weather wear, and for shirt-waist frocks is combined with plain pongee and lace in all forms-as all-over edging, banding, insertion, motifs, etc. Pongee coats are stylish, and very satisfactory for hard usage. Some are very plainly made, and others are quite elaborately trimmed with lace, buttons or velvet.

The rajahs and Burlinghams are quite as popular as they were during the last season, notwithstanding the prophesies to the contrary.
The Delineator, June 1906
---
Sailor Costume



Ladies' Sailor Costume

McCall Pattern-Sailor costume, 9642. The blouse with full length or elbow sleeves, sailor collar in two outlines, with or without the standing collar, cuffs and body lining, a seven-gored skirt in round, short-round or instep length, with or without the yoke. It requires for medium size 6 1/2 yards 44 inches wide. Lining required, 1 1/4 yards 36 inches wide; material represented for chemisette, 5/8 yard; braid 5 yards; 1 ornament; 1 lace.

Bazar of Fashions, McCall's Patterns,
June 1906
---


P.O. Box 9, Nahant, Massachusetts 01908
e-mail:
phone: (781) 49-WALTZ (781-499-2589)
© 2014, Vintage Victorian, All rights reserved

Go to:












last updated 30 may 2014/csb