Ladies' Evening Dress, the Ragtime Era. 1910-1920
An Overview
by Katy Bishop, Vintage Victorian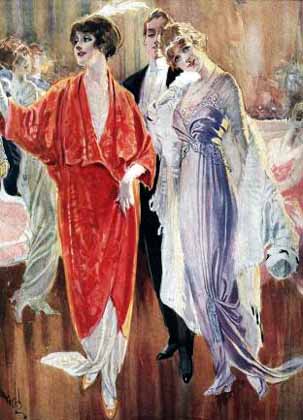 Dressing for a Ragtime Ball
Fashionable gown styles varied from year to year during the 1910's. At the beginning of the decade styles were rather columnar, with long skirts that fell quite straight. By 1913-14 (the period chosen by CVD for their performing gowns) the skirts are elaborately draped and quite fanciful. In the middle of the decade, during 1915-16, the skirts developed an A line silhouette (which was revived in the 1950's with Dior's "new" look). By the end of the decade the skirt silhouette was once again fairly straight
The illustrations here are arranged chronologically, and show the evolution of styles throughout the decade. from 1912 to 1919. (If you hover over the picture you will see what year it is from)
Accessories
Full length white gloves would complete the outfit splendidly. Shoes in a color to match or compliment the gown, with a medium height heel of 1½-2 inches, such as Capezio character shoes are comfortable for Ragtime dancing. Hair should be worn up and was usually dressed with decorative headbands, ornaments, or feathers.
Outerwear
While traveling to the Ball one might wish to wear a cocoon coat or fanciful evening wrap. A few examples are shown here. One from 1914 in red draped silk, another, from 1919, in pink patterned brocade has white fur or velvet trim, behind it are a red satin cloak with black fur trim and a royal blue cape with brown fur trim. Capes in rich satins, brocade or velvet are also an easy and luxurious alternative.
| | |
| --- | --- |
| | |







Mens' Evening Dress for the Ragtime Era. 1910-1920




Gentlemen's evening dress of this era is fairly similar to modern formal wear consisting of a black tail coat or tuxedo jacket. White formal shirts can have wing tip collars; vests and bow ties should be either white or black (cummerbunds are not appropriate). White gloves add the final touch of formality for ballroom wear. Flexible soled shoes such as Capezio black jazz oxfords are quite suitable for dancing.

We have illustrated here a tailcoat suit from 1920 with white waistcoat and white tie, with top hat, white gloves and cane. Also a tuxedo suit, also from 1920, with black waistcoat and tie. The Tuxedo is a more informal alternative to the tailcoat. Below is a scene from The Delineator 1919 with a new style of double breasted dinner jacket (described as being a new style fashionable for young men in 1919), a more traditional single breasted tuxedo jacket and a formal tailcoat (swallowtail) suit. White waistcoat would generally be worn with tailcoats and black with tuxedo jackets in this period. The seated lady is wearing a very simple lightweight silk dancing dress.
---


P.O. Box 9, Nahant, Massachusetts 01908
e-mail:
phone: (781) 49-WALTZ (781-499-2589)
© 2011, Vintage Victorian, All rights reserved