Guidelines for Ladies' and Gentlemen's
1890s Evening Attire
a Brief Overview of the Elements of a Period Ensemble
of the late nineteenth century known as the Gilded Age or Belle Époque You can click on some of the images for more details or for a larger, more detailed, view.
| | |
| --- | --- |
| | Table of Contents: Related Pages: |
Ladies' Evening Dress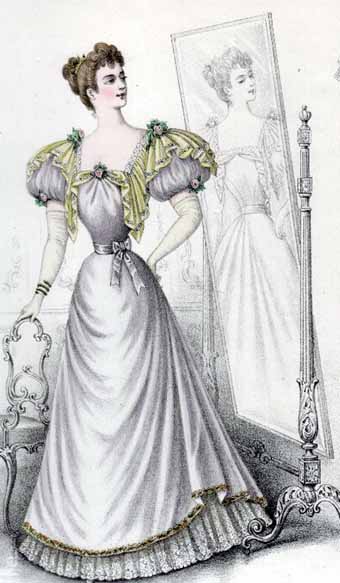 Ladies' evening dress of the 1890s highlights an hourglass figure and usually consists of a fitted bodice with and open neckline, the shoulder-line is on the shoulder, with sleeves ranging from extravagant puffs to small or even almost non-existent ruffles or lace. The skirt sweeps the floor and is A-line, usually cut in a circle with gored pattern pieces. Fabrics range from rich brocades and velvets to lightweight chiffons and organdies. Colors are deep rich jewel tones or light and youthful pastels. Trims can be rich, heavy, and historically influenced or very femminine and fluffy.
Components of an 1890s Evening Gown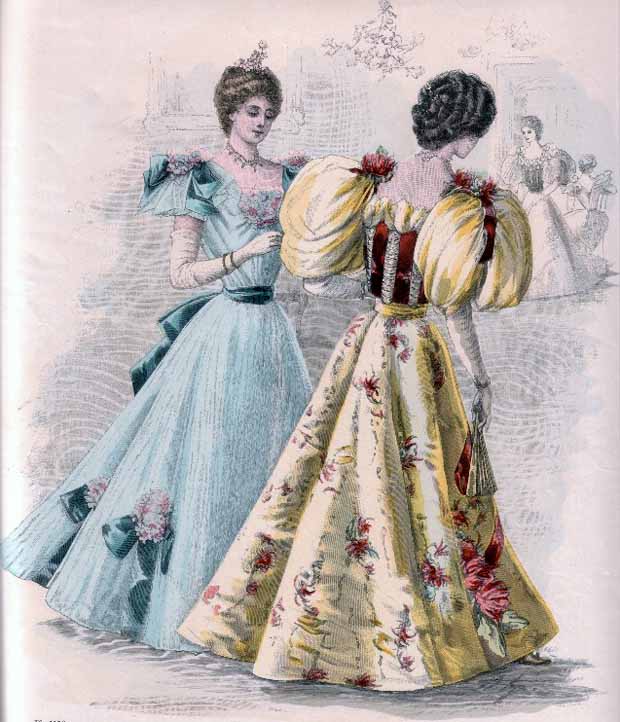 BODICE:
FIT:
The bodice fits smoothly, with many shaped bodice pieces and boning on each seam.
NECKLINE:
The neckline is open, scooped, vee, or square cut, not very low cut. The shoulder-line is on the shoulders to support the sleeves and not fall off the shoulder, and enhance the vertical and slim look of the bodice. The neckline usually has a drawstring for a snug fit.
WAISTLINE:
The waistline is often pointed in front and back, can be slightly below the natural waist, or the waist can be cut straight at the waist, often with a sash. Princess-line gowns are cut with the bodice and skirt in one piece.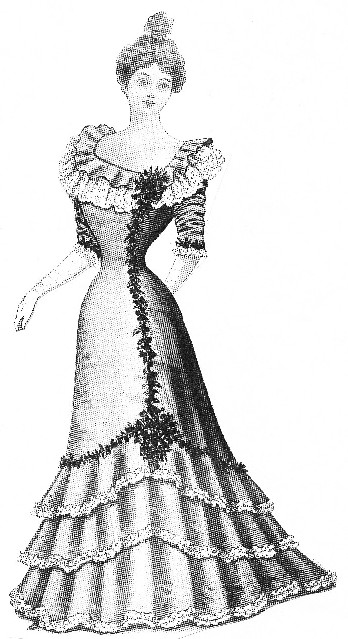 CLOSURE:
The closure is in the center back or center front, with either hooks and eyes (most common) or center back lacing with hand sewn eyelette holes (not very common). Surplice wrap fronts are common, where the front overlaps on a diagonal (a nice style to facilitate later size alterations).
SLEEVES:
The sleeves are extravagantly large puffed in the mid century, but during the decade they can range from huge puffs, small puffs, draped fabric, to simply a frill of cloth or lace.
TRIM:
Very feminine lace flounces are popular, contrasting silk or ribbon sashes, panels or bows; beadwork.
SKIRT: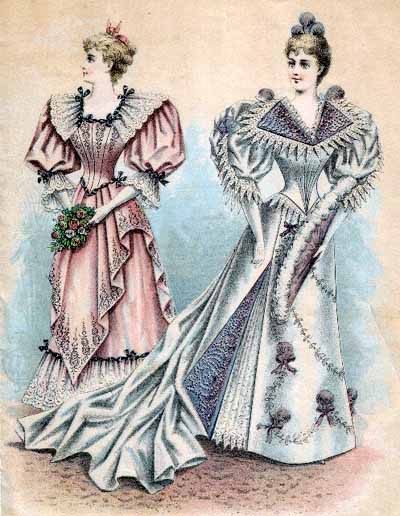 LENGTH: Skirts are full length, sweeping the floor or a bit shorter for dancing (the more experienced the dancer the longer the skirt can be); trains are seen for receptions but can be cumbersome on the dance floor.
WAIST FINISH: The waistline is smooth over the hips, with gored skirt panels and darts; the center back can be gathered or pleated for extra fullnes. Center back hooks and eyes.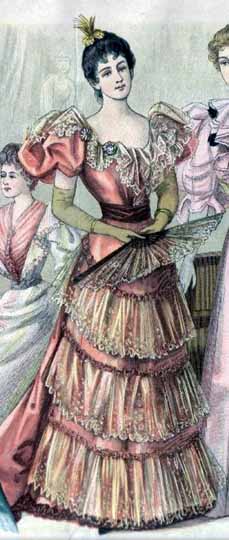 SHAPE: The skirt is cut in gores for an A-line shape, usually making a half circle. The skirt can be either heavy and structured or soft and flowy. The hem can be stiffened with horsehair or canvas to support heavier cloth. If the skirt is lightweight a silk organza lining can be used for some light stiffening.
FULLNESS: The back of the skirt has extra fullness, but the cesired look is a smooth fit in front. The back waist fullness is kept to the back with the aid of two lengths of elastic attached horizontally to the center back, and side back, and back side seams (5 seams total) across the rear end. A small bustle pad can be worn to enhance the curve of the hips or rear end.


FABRICS AND TRIMS: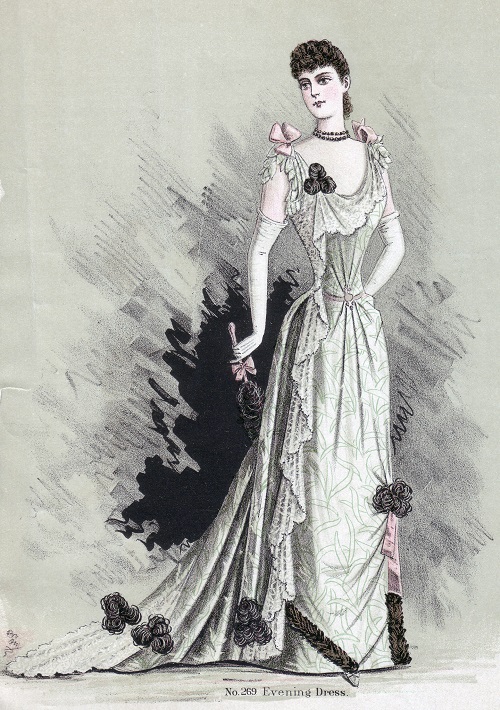 FABRICS: Fabrics used were most often silks in taffeta, satins, velvet, and rich brocades; for summer wear lightweight silk chiffon, crepe, or organdy. Contrasting fabrics are often combined.
PATTERNS: patterns Can be solids, stripes, large prints or woven besigns. Embroidered degigns are also seen.
COLORS: Colors are generally lighter for young ladies, darker for older women. Deep rich jewel tones are popular, as well as striking color combinations ans rich contrasts. Light pastel hues are popular in warmer months.
TRIM: Lace is a very popular trim, often with floral and bow motifs or "antique" style lace. Historical influences, of the Renaissance, Baroque, and other eras are seen in trimmings. Flowers, feathers and fur trimming are also popular.
Patterns
Past Patterns ball gown #206, perhaps with the addition of full puffed sleeves and skirt patterns numbers #208 and #1097 are appropriate for 1890s evening gowns. Patterns of Fashion by Janet Arnold also has accurate ball gown patterns. Fitted day gown bodices such as Past Patterns #207 and #903 can be easily altered by cutting it with a lower neckline and shorter puffed sleeves. Laughing Moon Enterprises has good 1890s evening bodice and skirt patterns as well.
---
Hairstyles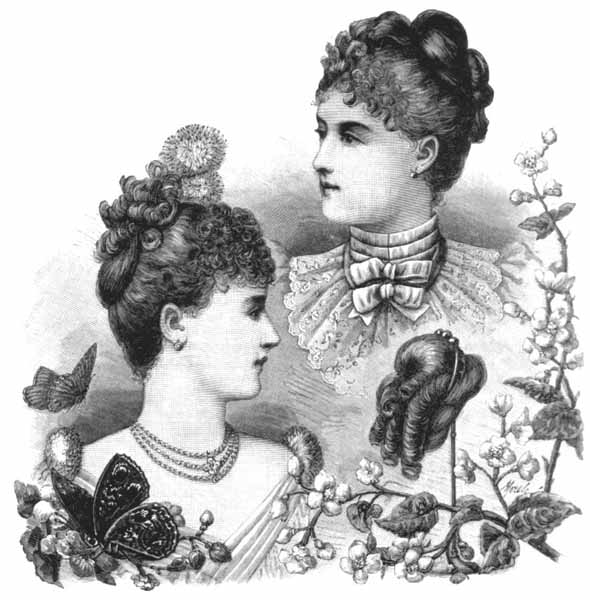 Hair should be worn up, in a bun often fairly high on the head or pulled softly to the back of the head. Hair is usually wavy and the volume of the hairstyle increases throughout the decade. In the early 90s it is fairly close to the head and by the late decade it is approaching the Gibson Girl puff. and was usually dressed with small ornaments, ribbon bows and feathers; there was usually a strong vertical emphasis in the headdress.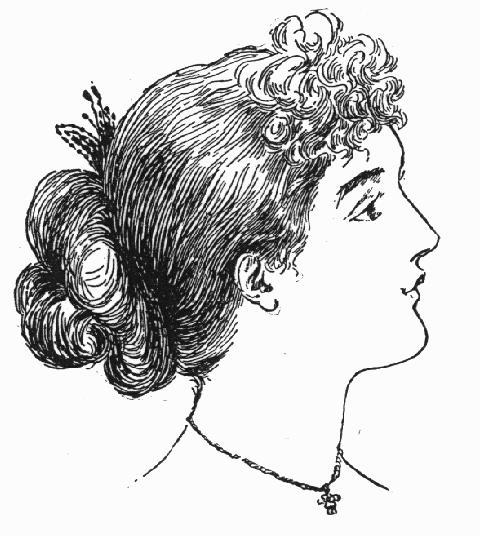 Evening Accessories
Jewelry, Fans, Gloves, and Shoes
Earrings can be dangles, and short bead necklaces are appropriate. Brooches with rhinestones or colroed stones are popular. A large feather fan is a popular ballroom accessory to cool off after a rousing polka. Full length white gloves complete the outfit splendidly. Shoes should be in a color to compliment the gown; those with a fairly low heel of 1-2 inches (such as Capezio character shoes), are comfortable for late Victorian dancing.
---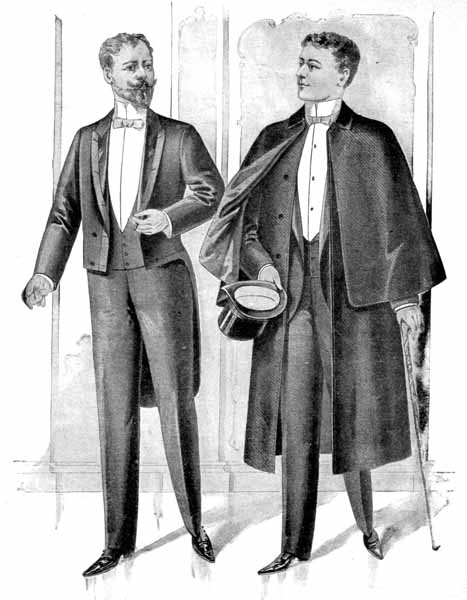 Gentlemen's evening dress of the 1890s is fairly similar to modern formal wear: black tail coat (the "recently" invented tuxedo jacket is also an acceptable, though less formal, alternative); white formal shirts with stand up or wing tip collar; vest (ideally with lapels and scooped-front—cummerbunds are not period); bow tie which can be either white or black. White gloves are de rigeur for ballroom wear. Flexible soled shoes such as Capezio black jazz oxfords are suitable for dancing.
1896 Illustration to the right:
Gentleman's "Tailor-made" Dress Suit (left)
and Inverness Overcoat worn with a Tuxedo Jacket(right)
| | | |
| --- | --- | --- |
| 1892 Tailcoat Suit | 1899 Tailcoat Suit | 1892 Tuxedo Suit |
Patterns
Folkwear Vest pattern number #222 view B (also contains a bow tie pattern), or Simplicity pattern #5436, views C or D, done in black or white are suitable for this period.
---


P.O. Box 9, Nahant, Massachusetts 01908
e-mail:
phone: (781) 49-WALTZ (781-499-2589)
© 2011, Vintage Victorian, All rights reserved













last updated 25 june 2013/csb