HAIRSTYLES AND HEADDRESSES
OF THE CIVIL WAR ERA

View:
"Headdresses for balls", says that impeachable authority the Moniteur, "are nearly always round, but much fuller behind and at the sides than in the front. They are generally a mixture of velvet, gold and silver ribbon, pearls, and even diamonds."

Godey's Lady's Book, August 1859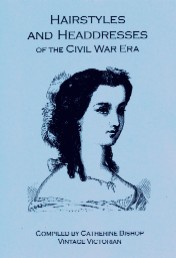 Hairstyles and Headdresses of the Civil War Era contains illustrations originally published in issues of Godey's Lady's Book and Peterson's National Magazine from 1859-1864. The illustrations, mainly from my own collection supplemented with some from the extensive collection of Patri and Barbara Pugliese. This volume is intended to assist ladies in more accurately reproducing the fashions of the period; the hairstyle is often the final part of the outfit to be considered but it is a part that greatly affects the success of a period persona.
The most recognizable features of hairstyles from this Era are the center part, with the hair pulled to the sides, usually covering the ears, and the absence of bangs. This period style is often difficult for modern ladies to adopt as it is so very different from their everyday look. The success of any re-enactor's outfit is greatly enhanced by the correct hairstyle or headdress. Many of us do not have the amount of hair needed to create some of the styles illustrated in this book, but with the careful placement of false hair, ribbons, flowers and lace, a stunning effect can be achieved that is practically indistinguishable from the original. There are many ingenious way to produce the illusion of long hair; one illustration (Godey's, September 1862) shows how a lady can ingeniously add a false hank of hair (called a front braid) to her own braid to make it thicker.


8 ½" by 11" high quality photocopy, with stapled binding
59 pages
167 black and white illustrations
first published 1999
View this book's Table of Contents
Page Preview Page

---


P.O. Box 9, Nahant, Massachusetts 01908
e-mail:
phone: (781) 49-WALTZ (781-499-2589)
© 2019, Vintage Victorian, All rights reserved