Nahant Victorian Dance Weekend
---
2017 Nahant Schedule Overview
Times and exact details are subject to change, the final schedule is still being finalized.
If you are staying over on Monday, we will head over to Zimman's fabric store in Lynn in the late morning for some shopping. For those of you unfamiliar with Zimman's, it has an impressive array of high-end upholstery and drapery fabrics, silks, linens, and cottons, perfect for period costuming. Their basement clearance section can offer some huge discounts. On Monday afternoon we will will have a tour of a local historical site, location TBD.
DINING & LODGING
There are no hotels on Nahant itself, these are the two closest hotels and a B & B with easy access to Nahant:
Comfort Inn & Suites, 781-485-3600
85 American Legion Highway (Route 60 near 1A), Revere, about 20 minutes away.
Sheraton, Four Points, 781-284-7200
407 Squire Road, Revere, about 20 minutes away.
Ocean View B & B, 781-598-6388
email: ocean@shore.net, 11 Ocean Street, Lynn, 10 minutes away
Informal period ambiance
Other hotels and Bed & Breakfast listings can be found on our Lodging and Dining page.
Frequently Asked Questions
DO I NEED TO BRING A PARTNER?
Though a partner of one's own is a help at a ball, please don't let the lack of one keep you away! During the ball, folks mix and dance with many different partners throughout the evening. We also do not Gender Balance so singles will not be placed on a waiting list. Many singles, both male and female, attend the ball. Proper 19th Century etiquette encourages dancers to dance the first and last dance with the person they came with, but to dance with many different partners during the rest of the evening.
CAN I JUST COME AND WATCH?
The ball is great fun to watch (almost as fun as actually dancing). There is a great view from the Balcony, something of a Busby Berkeley experience during the Quadrilles and Contra Dances. There is no fee for watching, but donations are appreciated especially if one wishes to partake in refreshments.
CAN I BRING MY CHILDREN?
Children are welcome at the ball if they are accompanied by an adult, and they must be well behaved and supervised during the Ball. Younger children, if they wish to participate in the dancing, might be admitted for a reduced fee.
WHAT TO WEAR? (or do I have to wear Victorian clothes?)
The perennial question that confronts one when getting ready for a ball is "What shall I wear?" For our vintage Balls, we encourage our patrons to wear dress that is either period-style or evocative of the period or theme, but modern formal or semi-formal wear is also equally acceptable. Please don't let the lack of period or formal clothing keep you away from the ball; the most important thing is for you to come and enjoy the evening. For this Ball, a modern full-length gown, full enough in the skirt to allow freedom of movement, would be just fine. For the Gentlemen, a suit and tie is also an acceptable alternative to white tie and tails or a tuxedo. For those who wish to recreate the mid (1850-60s) or late (1880-90s) Victorian Era, we have created a guide with illustrations of some of the styles worn during this time; please visit the Fashion Section for detailed information about proper period dress and the Costume Timeline for a selection of evening fashions 1850s-1890s.
WHAT TO WEAR--MORE DETAILS
Period clothing is not required at any of the weekend's events, we usually have a mix of attendees in period dress and modern formal or semi-formal wear. Don't let the lack of period clothing keep you away, wear what make you comfortable (no jeans or t-shirts please) and enjoy dancing. The following is an overview of what period dress might be appropriate each day. Remeber that modern dress is welcome at any of the events (no jeans or t-shirts please)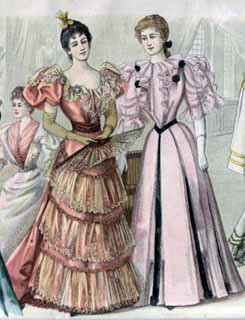 At the formal dinner on Thursday night, the setting will be late 19th century, so elegant evening wear, period or modern is recommended, especially fashions of the 1880s and 1890s. For the Friday evening Soirée the layout of the rooms might make hoopskirts cumbersome, so we are recommending bustle era through early twentieth century fashions.

Costumes of the late Victorian era, the 1850s through 1890s are encouraged at Saturday's ball.

Summer whites of any era, especially those of the early 20th century, and hats, are encouraged at the concert and tea. The music of the concert will be ca. 1914-1918.

Visit the Evening Dress Timeline Page for a selection of evening fashions from the 1850s-1890s, or the Costume library for a number of links to pages detailing fashions of various eras.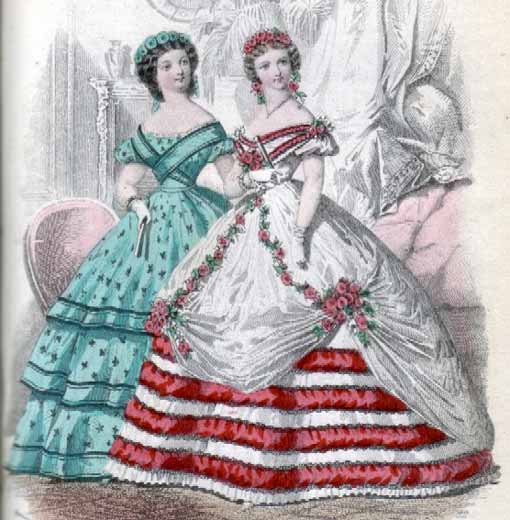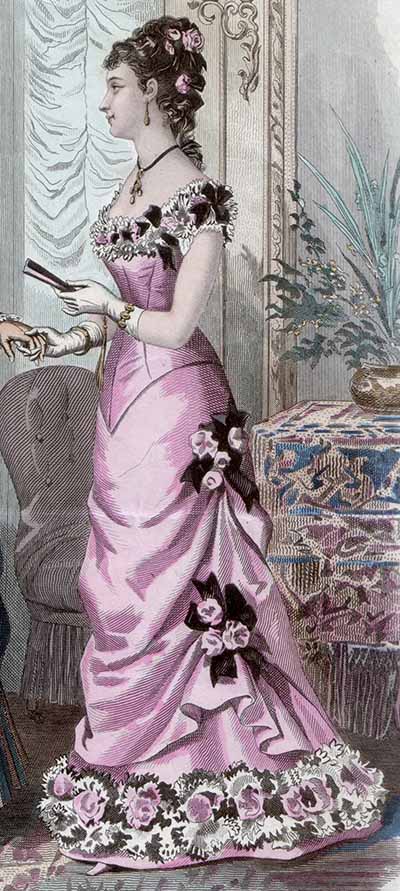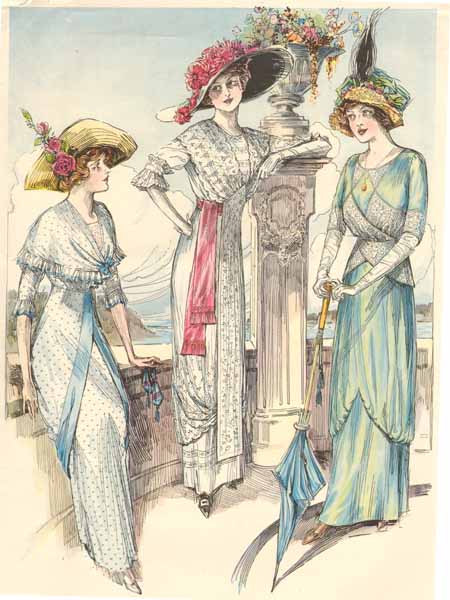 If you have questions about what to wear don't hesitate to contact us (email is best):
email:
or call Katy at (781) 49-WALTZ (781-499-2589).

Quick Links:















last updated 2 aug 2016/csb