Nahant Victorian Dance Weekend
---
2016 Nahant Schedule Overview
Times and exact details are subject to change
If you are staying over on Monday, we might head over to Zimman's fabric store in Lynn in the afternoon for some shopping. For those of you unfamiliar with Zimman's, it has an impressive array of high-end upholstery and drapery fabrics, silks, linens, and cottons, perfect for period costuming. Their basement clearance section can offer some huge discounts. On Monday we will head down to Rhode Island, to the Biltmore Hotel in Provdence, and start the second part of the dance week.
2016 Nahant Victorian Dance Weekend Schedule

Thursday, August 4, Nahant, MA.
Formal Dinner and Dancing at the Nahant Country Club, 7:00 - 11:00p
Our formal Dance Holiday begins with a wonderful repast followed by dancing as we meet new friends and catch up with old ones. Before dinner, enjoy the sunset from the piazza while sipping a cocktail; dinner will be served at 7:30p. The dance will be to recorded music with prompting by Jeanette Watts and Ben Bishop; we may get a head start learning our Nahant Quadrille for Saturday night. Music will be a mix of 19th and early 20th century tunes. Suggested attire is formal evening wear of any era, with an emphasis on late 19th century dress if you so desire.
(Hors d'oeuvres, dinner with sparkling cider; cash bar)
Friday, August 5, Nahant, MA
Costume Class: Arts & Crafts Embroidery with Sue Fischer, 10:00a - 12:00n
This class will teach a simple method of ornamenting linens that was popular in the 1910s and early 20s. Participants will choose a period motif, color it with the wax transfer method, and outline the motifs with embroidery cotton to make a small bag or doily.

During the early 20th c., several firms sold kits with the linen already stamped and colored. Sometimes needleworkers would merely outline the motifs (or not) and sometimes they would either embroider over the whole motif or pick out parts of the design in colors of their choosing.

Participants are encouraged to bring their own fabric (natural or ecru linen or cotton—no synthetics!) and transfer their chosen motif BEFORE class. I recommend a fine-point Sharpie. Please do not use ballpoint pen or pencil, as the marks will smear onto the fabric, the floss, and your hand.



NOTE: This class is sold out. we may be able to offer the class later in the week if there is sufficient interest. Choose the waitlist option and we will contact you with details if an additional class can be scheduled. .

Period motifs for your project

We have chosen 5 images to download, print, and transfer onto your cloth, click on it to get to a larger image and download it. If your prefer, you can order the kit, choose an image (or leave it up to us) and we will transfer it for you:





PLEASE BRING THE FOLLOWING MATERIALS:

Piece of linen or cotton fabric large enough to make a bag or doily (minimum 5" x 14" for a bag)
Black embroidery floss or pearl cotton
3-6 skeins of colored floss or pearl cotton
Small embroidery hoop
Appropriate length of cord, if you are making a drawstring bag

A limited number of kits will be available for purchase at the class for $5. Sign up will be available on the website.


Dance Class: Everything Ragtime Dance 101 with Idy Codington, 1:00 - 2:15p


In the afternoon Idy will lead a Ragtime review. Ragtime dances are made by and for working people (not dancing masters): easy to learn, quick to teach, and fun to do. In this class we'll:

Learn a little one step, two step, three step
and a little foxtrot—just for fun
Dance a little one step, two step, foxtrot,
Join us, it'll make your juices run.

Comfortable clothes and flexible-soled shoes are recommended for the class.

Vintage Bazaar, 2:30 - 4:30p
We will shop 'til we drop at the vintage bazaar. We have several people bringing lovely vintage items of all types. Once again Veronica McClure will help us support the Nahant Historical Society with her hobby fundraiser vintage sale known as Veronica's Attic. There will be an eclectic mix of vintage and more recent items, including footwear, so be sure to check out The Attic and buy something to help support our event. The more you buy, the more the Society will receive. Veronica also accepts donations to The Attic, but since this is a hobby, no donation receipts are available.

Seaside Soirée at Egg Rock Estate, 7:00 - 10:30p
After dinner on your own, we'll gather at the stunning mid-19th century seaside estate Egg Rock for an evening of 19th and early 20th century music and dancing. Music will be by Spare Parts. Upon arrival enjoy another spectacular sunset over the ocean, with a view of the rocky coast. Suggested attire is formal evening wear from 1880-1920. Hoops are not recommended due to space concerns, as this is a furnished home; modern evening dress is also welcome.
(Hors d'oeuvres & sweets, sparkling cider, punch)
No changing facilities will be available on-site.
Saturday, August 6, Nahant, MA.
Costume Class: Costume Clinic with Katy Bishop & Friends, 10:00a - 12:00n
Bring your unfinished projects, fitting problems, and questions to this informal hands-on workshop. If there are gents in the house, maybe we'll even learn how to tie a bow tie or cravat! Katy's extensive costume resource library will also be available for research. Please let us know in advance if you will be attending this session.





Dance Class: The Mazurka with Jeanette Watts, 1:30 - 3:00p


Mazurka—in the 1800s, it was the holy grail of dancers. A new dancer can polka, a good dancer can waltz, but a great dancer does the mazurka! The parts are simple; slide, cut, hop, and leap. The whole is definitely greater than the sum of the parts. The variations range from fairly simple—slide, cut, hop, to fairly difficult—hop, slide, hop, hop, slide, cut. This class will start at the beginning, and we will go as far and as fast as we can manage to get. (From jeanette: In case you haven't noticed, my license plate says MAZURKA. It's one of my FAVORITE dances!) Comfortable clothes and flexible-soled shoes are recommended for the class.



Dance Class: Ballroom Basics with Ben & Katy Bishop, 3:15 - 4:45p


The pre-ball beginner workshop will introduce the figures of the Nahant Quadrilles and go over the basics of waltz and polka. The level of instruction will be tailored to the needs of the participants. Comfortable clothes and flexible-soled shoes are recommended for the class.

The Grand Ball: An Evening in Vienna at the Town Hall, 7:30 - 11:00p
Enjoy this evening of 19th century dance and music evoking the Belle Epoque Vienna of Strauss & Lehar, plus a scrumptious offering of refreshments, at the historic Town Hall. Music will be by Spare Parts; they will welcome Max Newman as an additional "Spare Part" tonight! Dances will be a mix of Set Dances, the Nahant Quadrilles, Waltzes, Polkas, and Galops from the second half of the 19th century. There will be a dance card, but there will also be many extra dances not on the card. Suggested attire is evening wear 1860-1900; this is a good venue to accommodate a hoop skirt if you've been waiting for the opportunity.
(Savory & sweet refreshments, punch, fruit, home-made sorbet)
Sunday, August 7, Nahant, MA.
All Sunday events are at Egg Rock Estate
No changing facilities will be available on-site.

Period Concert: Gems of the Jane Austen Ballroom:
a concert of late 18th and early 19th century music with Spare Parts, 1:00 - 2:30p
After shopping, sightseeing, or sleeping-in, we will conclude the Nahant portion of the week at Egg Rock estate with a relaxing afternoon, starting with a concert by Spare Parts featuring music from the era of Jane Austen.

Formal Tea & Lawn Games, 2:30 - 4:00p
After the concert, we'll enjoy a Formal Tea with John Burrow's famous scones and Terry Crumb's home-made berry preserves! After a cup of tea and a sandwich you can play croquet or other period games on the lawn.
(Tea, scones, light sandwiches)

Informal Dancing, 4:00 - 5:00p
After tea, Spare Parts will return with a program of 19th & early 20th century tunes for dancing.

Victorian Promenade, 5:00 - 6:30p (approx.)
The day will conclude with a seaside promenade to East Point, the former site of the famous Nahant Hotel. There you can marvel at almost 360-degree views of the rocky shore, open ocean, Boston skyline, lightouses, and more. We ask that everyone remove their belongings from the house before the promenade.

If you are attending the Rhode Island portion of the dance week, you may choose to stay in the Nahant area for the night, head over to Zimman's Fabric Store in Lynn Monday morning, and spend a liesurely day sightseeing and shopping on your way to Providence. Alternatively, you can head straight to Providence Sunday evening, settle into the Biltmore and explore the area before the Monday evening Soirée. Moments in Time will be providing a list of excursions to historic sites and shopping venues between Nahant and Providence.
To register visit the Nahant Event Page for a more detailed schedule. Visit the Summer by the Sea page for a full schedule of the whole eight day event
THE MUSIC IN NAHANT
Spare Parts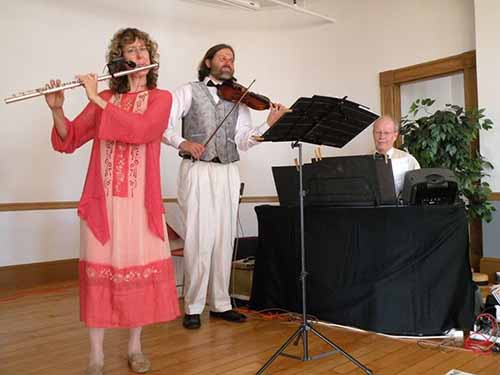 The music for the Nahant events will be provided by Spare Parts: Bill Matthiessen, Liz Stell, and Eric Buddington. On piano and flute, Bill and Liz play romantic couples dances, hot contras, and historically accurate programs for Regency (Jane Austen era), Victorian (1860s), Gilded Age (1890s) and Ragtime. Argentine tangos, milongas, and vals are a special passion of theirs. Liz and Bill usually play as a trio with violin.

Our Spare Part for the weekend, Eric Buddington, switches effortlessly between fiddle and violin. He excels at Argentine tangos, waltzes, and milongas; he also joins Spare Parts for Regency balls, Ragtime balls, and English country dances as well as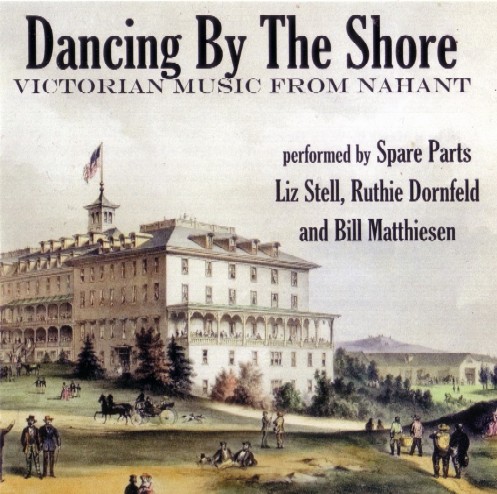 contras and concerts. He performs with on The Regency Ballroom and Returning Heroes CDs. Formerly (and occasionally still) with the Flying Garbanzos, Eric also performs with several other ensembles.

Max Newman will be joining Spare Parts on Saturday evening playing the mandolin. He plays traditional fiddle music on guitar and mandolin, playing for dances, particularly contra, English country, and square dances. He also showcases traditional music in concert, where he has been known to sing a song or two.
--More information at Spare Parts homepage.

We will be dancing to music of the period. Many of the tunes come from sheet music from the collection of the Nahant Historical Society dedicated to Nahant, such as the Nahant Polka and Nahant Quadrilles. If you are interested in enjoying the music ahead of time, we have produced the Dancing by the Shore CD with Spare Parts and the Historical Society.
DINING & LODGING
There are no hotels on Nahant itself, these are the two closest hotels and a B & B with easy access to Nahant:
Comfort Inn & Suites, 781-485-3600
85 American Legion Highway (Route 60 near 1A), Revere, about 20 minutes away.
Sheraton, Four Points, 781-284-7200
407 Squire Road, Revere, about 20 minutes away.
Ocean View B & B, 781-598-6388
email: ocean@shore.net, 11 Ocean Street, Lynn, 10 minutes away
Informal period ambiance
Other hotels and Bed & Breakfast listings can be found on our Lodging and Dining page.
Frequently Asked Questions
DO I NEED TO BRING A PARTNER?
Though a partner of one's own is a help at a ball, please don't let the lack of one keep you away! During the ball, folks mix and dance with many different partners throughout the evening. We also do not Gender Balance so singles will not be placed on a waiting list. Many singles, both male and female, attend the ball. Proper 19th Century etiquette encourages dancers to dance the first and last dance with the person they came with, but to dance with many different partners during the rest of the evening.
CAN I JUST COME AND WATCH?
The ball is great fun to watch (almost as fun as actually dancing). There is a great view from the Balcony, something of a Busby Berkeley experience during the Quadrilles and Contra Dances. There is no fee for watching, but donations are appreciated especially if one wishes to partake in refreshments.
CAN I BRING MY CHILDREN?
Children are welcome at the ball if they are accompanied by an adult, and they must be well behaved and supervised during the Ball. Younger children, if they wish to participate in the dancing, might be admitted for a reduced fee.
WHAT TO WEAR? (or do I have to wear Victorian clothes?)
The perennial question that confronts one when getting ready for a ball is "What shall I wear?" For our vintage Balls, we encourage our patrons to wear dress that is either period-style or evocative of the period or theme, but modern formal or semi-formal wear is also equally acceptable. Please don't let the lack of period or formal clothing keep you away from the ball; the most important thing is for you to come and enjoy the evening. For this Ball, a modern full-length gown, full enough in the skirt to allow freedom of movement, would be just fine. For the Gentlemen, a suit and tie is also an acceptable alternative to white tie and tails or a tuxedo. For those who wish to recreate the mid (1850-60s) or late (1880-90s) Victorian Era, we have created a guide with illustrations of some of the styles worn during this time; please visit the Fashion Section for detailed information about proper period dress and the Costume Timeline for a selection of evening fashions 1850s-1890s.
WHAT TO WEAR--MORE DETAILS
Period clothing is not required at any of the weekend's events, we usually have a mix of attendees in period dress and modern formal or semi-formal wear. Don't let the lack of period clothing keep you away, wear what make you comfortable (no jeans or t-shirts please) and enjoy dancing. The following is an overview of what period dress might be appropriate each day. Remeber that modern dress is welcome at any of the events (no jeans or t-shirts please)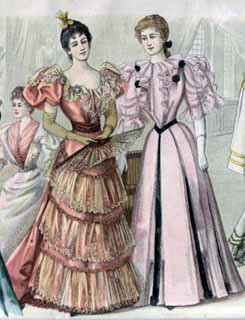 At the formal dinner on Thursday night, the setting will be late 19th century, so elegant evening wear, period or modern is recommended, especially fashions of the 1880s and 1890s. For the Friday evening Soirée the layout of the rooms might make hoopskirts cumbersome, so we are recommending bustle era through early twentieth century fashions.

Costumes of the late Victorian era, the 1850s through 1890s are encouraged at Saturday's ball.

Summer whites of any era, especially those of the early 20th century, and hats, are encouraged at the concert and tea. The music of the concert will be ca. 1914-1918.

Visit the Evening Dress Timeline Page for a selection of evening fashions from the 1850s-1890s, or the Costume library for a number of links to pages detailing fashions of various eras.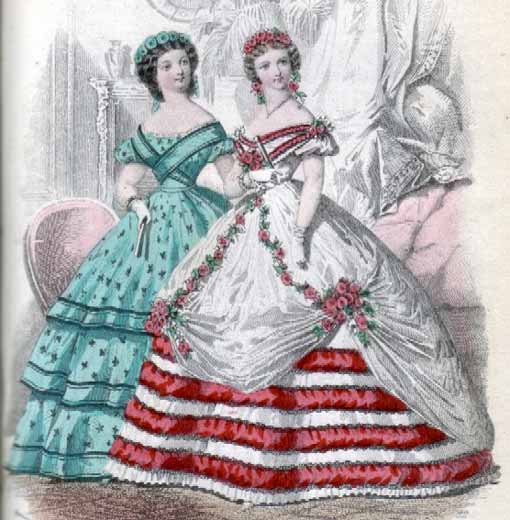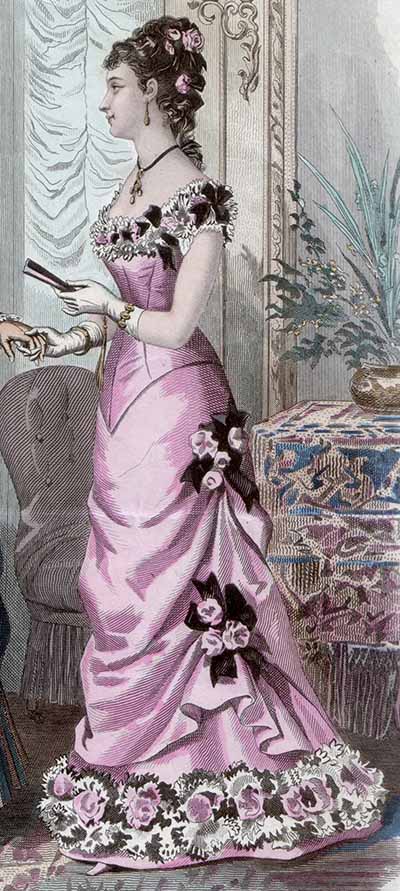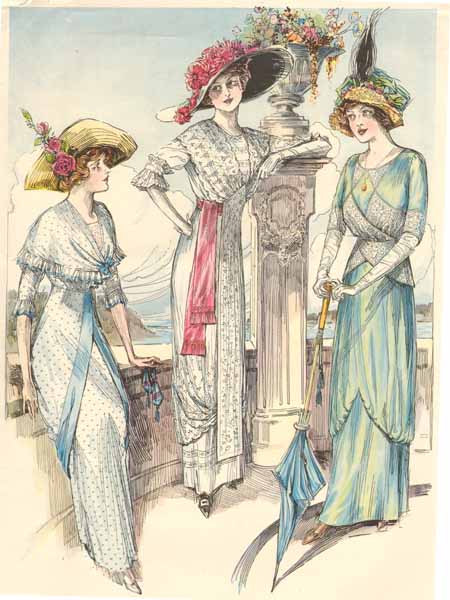 If you have questions about what to wear don't hesitate to contact us (email is best):
email:
or call Katy at (781) 49-WALTZ (781-499-2589).

Quick Links:















last updated 2 aug 2016/csb